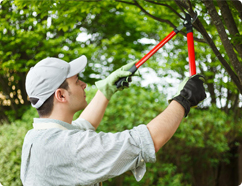 Among numerous other gardening services our company offers excellent garden cleaning. We provide this service to all areas of London. Book with us now and we will clean all the mess for you.
After the long winter months, usually there are piles of fallen autumn leaves in your garden, but it is most likely that you are too busy to clear them up. Now you are given the opportunity to have your outdoor space cleaned by the best professionals in the industry.
It is important to maintain our gardens tidy and clean but it surely is a time consuming activity. Not to mention that not everyone has a green thumb. We aim to provide good quality garden maintenance to everyone who wants their exterior to look like it came out of a magazine.
Your outdoor space should be taken proper care of on a regular basis, just like anything else in your home. After all, we all enjoy having a cup of tea or coffee in our gardens on a warm spring afternoon. Maintaining the tidy looks of our gardens is not an easy task. The garden is a living space and it constantly grows. Weeds and branches overgrow, leaves gather and all that gives an unpleasant, unkempt look of your back or front yard. You do not have to worry about keeping up with this task on top of all other chores and jobs that you have. Time is precious and we offer you to spare some and let us clear up your garden space.
Book your gardening services & SAVE 10%
SERVICE
PRICE
Gardening Services (Team)

from

£50/h

£45/h

Hadge Trimming (Team)

from

£50/h

£45/h

Lawn Mowing (Team)

from

£50/h

£45/h
Here are some of the things our garden cleaning service includes
Lawn care and mowing
Hedge and bush trimming
Removal of overgrown branches
Leaf clearance
Weed control and weeding
Green waste removal
Tidying up flower beds
Keep in mind, these are only a few of the procedures our gardeners are trained in carrying out. If you want something specific done, feel welcome to contact our customer support center any time of the day you want and share with our co-operative consultants what you want. Apart from combining any of the services we provide, you can also come up with any additional tasks and discuss them with them. Complying with your wishes and meeting your expectations is of the utmost importance to us.
By Hiring us you can expect the following
A team of two professional technicians
All professionals are equipped with the latest tools and products
Availability 7 days a week including holidays
We are honest and reliable so you can trust us 100%
All services and employees are fully insured
To make sure everything goes smoothly, there are a few things we suggest you do prior to your service. First, make sure you tell your booking agent all the details of what you want to get done and about the condition of your garden. We usually ask our customers for a couple of pictures just to make sure we bring the right tools and estimate our time. Based on the size, condition and tasks to be performed, the agent will estimate a price for you (we work by the hour). We always do our best to meet our customers' needs and budget.
We want to provide our customers with a 100% secure service and this is why we are really cautious when it comes to choosing gardeners to hire. We always pay attention to their work ethics as well as previous experience. We check them thoroughly, prior to being employed, in order to make sure that they are perfectly safe to work at our customers' homes.
Call us now and book our garden cleaning. We promise to make your garden immaculately neat and to bring it to its previous lustrous state. Mind you we operate every day and every part of the day. We also provide our service in every season. Choose us and you will never have to touch a single weed.
Frequently Asked Questions
Do your gardeners come fully equipped?

Yes, after estimating the tasks that should be performed on your premises, we make sure to send the best people for the particular job and they always come in pairs, fully-equipped with the proper tools for the job. You do not have to worry about providing anything.

Are you going to use some toxic chemicals?

We only use chemicals for weed control. However, they are weed-killing chemicals and are absolutely harmless to people and pets. We provide top quality service without putting our customers' health in jeopardy.

Do you still come if it's raining?

Yes, unless we are going to treat your weeds with chemicals. If it's slightly raining we will still send the team over. However, if a more serious storm is on it's way, we will have to reschedule.

Do you need access to electricity?

Not at all. We use high quality petrol equipment to provide best results.

How are fall leaves clean-ups done to ensure all leaves are removed?

Usually we do this in multiple visits. To ensure all leaves are removed we might have to schedule a few appointments in order to clear up all. Leaves will fall for a while, depending on the tree you have so you have to maintain the cleaning regularly.
"As retirees that don't have the energy to constantly clean up our garden, we are extremely pleased with the service your employees have been providing for us. Every time, no matter the season, the team arrives and clears up everything in no time. The backyard, porch and stairs are left so neat looking. Thank you so much for making our lives easier and more beautiful!" -Tina and Solomon
"I have been using this company for a few years now and I could not be happier with the job. They are very professional, quick and efficient. They transform my garden into one of those nice green spaces I always admire." – Faye Goldberg
" Amazing job! Every time I am impressed with the quality. The guys are very polite, always come on time and always make sure everything is properly done and all my ideas are fulfilled. I already recommend you to my friends and family!" – Robby