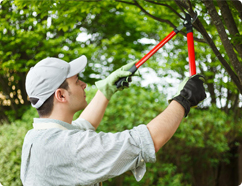 Our company offers excellent garden cleaning in London among numerous other gardening services. Book with us now and we will clean all the mess for you.
There are piles of fallen autumn leaves in your garden, but you are too busy to clear them up. Reading this, you are given the opportunity to have your outdoor space cleaned by the best professionals in the industry. And we are proud to say that they are all our employees.
Book your gardening services & SAVE 10%
SERVICE
PRICE
Gardening Services (Team)

from

£50/h

£45/h

Hadge Trimming (Team)

from

£50/h

£45/h

Lawn Mowing (Team)

from

£50/h

£45/h
Your outdoor space should be taken proper care of on a regular basis, just like anything else in your home. After all, we all enjoy having a cup of tea or coffee in our gardens in a warm spring morning. And it would be so much nicer if they are perfectly cleaned and well-maintained. And our company is the one that can provide you with this privilege in the most proficient manner.
What I liked about your gardeners is not only the fact that they really know what they are doing, but also that they went the extra mile to work with my budget. This is hilarious. I mean, just how many contractors ever do that? I'm astonished by your service and I'm definitely going to use your gardeners on a recurring basis because I really loved how they tended to my garden. The lawn used to be very tired-looking, weeds had found their way into it, the grass had overgrown. Your gardeners had a few great ideas about the overall appearance of the garden and did whatever they could to spruce it up, so now I can say it does add curb appeal to my home and I'm very delighted with your service. I would definitely recommend you. Wish you all the best.
To be honest, I was a little prejudiced about your company because from what I've seen I thought it was a small company and that you wouldn't have the capacity or equipment to tackle all my hedges, lawn and plants. However, you proved me wrong by doing all the hard work in just a few hours. I also was impressed that you completely transformed my hedges. You may be a small business but you definitely know what you are doing and you go out of your way to please me and my family and to do a good job, you know. I totally appreciate it.
Your gardeners were very conscientious and painstaking. They worked hard to make every centimetre of my garden beautiful. The area is simply amazing! I liked it that they took into consideration my needs and wants – trust me, not all the providers out there really care about you. These fellows are amazing! Keep it up.
Mind you, these are only few of the procedures our gardeners are trained in carrying out. If you want something specific done, you might feel welcome to contact our customer support centre any time of the day you want and share with our soft-spoken and co-operative consultants what you want. Complying with your wishes and meeting your expectations is of an uttermost importance to us.
Garden Clean-Up London
We want to provide our customers with a 100% secure and sophisticated service and this is why we are really cautious when it comes to choosing gardeners to hire. They not only need to have all the necessary skills, but also an impeccably clean criminal record. We check them thoroughly, prior to being employed, in order to make sure that they are perfectly safe to work at our customers' homes.
Call us now and book our garden cleaning. We promise to make your garden immaculately neat and to bring it to its previous lustrous state. Mind you we operate every day and every part of the day. We also provide our service in every season. Choose us and you will never have to touch a single weed.