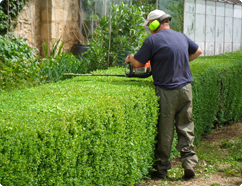 Gardeners Mates is a company located in London and is recognised as one of the most reliable gardening agencies on the market. We have an experienced team of qualified gardeners, who can cope with their duties quickly and efficiently, making your backyard look beautiful. For more information, contact us and our friendly operators will be glad to answer your questions.
When it comes to hedge trimming, special equipment and good knowledge are needed. We are here to provide you with the best hedge trimming service in London and give you the chance to enjoy a beautiful outdoor space at home. Hedge trimming is a tedious responsibility, which takes time and effort, sometimes even skills. To have the work done ideally, call us and order our professional hedge trimming services. Our company is among the best providers of gardening services in London.
We work with a team of qualified, experienced and fully-equipped specialists, who can turn your backyard into a masterpiece and thus give you the chance to enjoy your time outside your house even more. All our professional teams consist of experienced and skilful gardeners. We provide them with the best professional equipment on the market. All of our employees are well-trained to perform the particular service and achieve top-quality results.
Book your gardening service & SAVE 10%
Book your gardening service & SAVE 10%
SERVICE
PRICE
Gardening Cleaning

from

£50/h

£45/h

Hedge Trimming

from

£50/h

£45/h

Lawn Mowing

from

£50/h

£45/h
If you are sick and tired of looking at your bushes, hedges and overgrown trees, throwing shade on your garden or taking up the space you would like to use, do not hesitate and call us straight away. Here is what we can do for you:
Pruning: Reducing the crowns of your trees, in order to increase sunlight and create more open space in your garden.
Tree Felling and Removal: Safely taking down any damaged trees or branches. This is a task that requires a lot of skills and equipment and we suggest you do not take on such activities on your own.
Crown Shaping: Trees and Bushes need a trim now and then. We can do just that! Customize your hedge shapes and make all trees and bushes neat looking for the ultimate result.
Stump Grinding: Whenever a tree is taken down, the stump is left and it is quite the task to remove it. We offer you shredding the particular stump down to the ground so it will not prevent your garden from looking its best.
Large bush removal: If your bushes have become too big, you might want to get rid of them. Our professionals can do that for you. We assure your garden will look much bigger and brighter after that.
Taking on such big projects on your own can be extremely hard and even dangerous. This is why we suggest you call us and let our professionals do it quickly, efficiently and what's more – safely. Using the special equipment, there is no task that cannot be performed by our gardeners. We are one of the main providers of gardening services and we have a team that is specialised in hedge trimming. Our professionals can enhance your garden and give it a lovely and stylish look. While our services always show perfect results, our prices remain low and the most affordable ones on the market.
Here are some of the benefits we provide for all customers:
Availability 7 days a week, even on holidays.
Professional and experienced teams, specialised in the particular area.
Affordable prices
Top-notch professional equipment
No hidden charges
Call us any time as we operate seven days a week, including on holidays.Call us and order our professional hedge trimming services and we will add style to your back or front yard.
Frequently Asked Questions
Can you remove some big trees from my garden?

Yes, we offer that service as well but you may consider asking permission from the council for certain species of trees if you live in London.

My garden has been damaged from the shade the big bushes throw. Can you fix that?

Yes! We can trim or remove the bushes that are causing damage to your garden and fertilize the grass or plants that have been under the shade for longer. This will remove any bald patches you might have and improve the grass quality.

Do you bring your own equipment?

Yes, the teams come to your home fully-equipped and ready to start with job.

How often should I trim my hedges?

That depends on how big you want them to grow. Other factors are the type of hedge you have (some grow faster than others) and the weather conditions of the certain region/season you are in.

What is the difference between trimming and Pruning?

When pruning a hedge, one removes the dead or dying parts of it in order to prevent damage or overgrowth. When trimming, you simply cut off the top and sides to keep it in shape.
"To be honest, I was a little prejudiced about your company because from what I've seen I thought it was a small company and that you wouldn't have the capacity or equipment to tackle all my hedges, lawn and plants. However, you proved me wrong by doing all the hard work in just a few hours. I also was impressed that you completely transformed my hedges. You may be a small business but you definitely know what you are doing and you go out of your way to please me and my family and to do a good job, you know. I totally appreciate it." – Olivia Stevenson
" I had my back garden done by these guys and they did a fantastic job. I highly recommend this company, they are extremely professional and polite. Well worth it. They managed to turn my overgrown garden into such a nice place!" – Garry
" I just want to say a massive thank you to all the members of your team. The lady I spoke to on the phone was extremely polite and helped me organise a quote and book my hedge trimming service. Also Dustin and Jack who came to my home to trim my hedges and bushes. They were so kind and took on the job very professionally. They were done in less than 2 hours! Impressive really, I would definitely recommend this company." – Sandra B