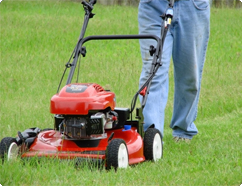 Gardeners Mates provides professional lawn mowing services in London. We have grown throughout the years, earning the respect of our customers. Due to our hard work, we can proudly say that today we are one of the leading companies in our industry. Our skilled experts are available seven days a week, well-prepared to provide you with the most appropriate service for your individual needs.
If you need prompt, professional lawn mowing service available in London, our company is the best option for you. We offer the highest quality gardening solutions to all our customers. We use the most efficient methods and techniques, as well as the latest equipment. Our professionalism is unmatched and our prices are extremely affordable. In order to be well-maintained, your lawn needs proper care. Most of us don't have the time or motivation to properly maintain the lawn in our garden. It is of crucial importance that we do it regularly to prevent it from overgrowing and maintain its healthy looks.
Book your gardening service & SAVE 10%
SERVICE
PRICE
Gardening Cleaning

from

£50/h

£45/h

Hedge Trimming

from

£50/h

£45/h

Lawn Mowing

from

£50/h

£45/h
Here are some of the Lawn Care services we provide for you
Edging : We can improve the looks of your garden by trimming its edges or surrounding it with borders. This will give it a sharp, neat look that will highly improve the atmosphere in your garden.
Lawn Repair : Whenever you have had some big trees or bushes throwing shade on your grass, it can get bald patches. We can fix those for you, using fertilizers and overseeding.
Weeding : Whenever your lawn is surrounded by more plants, mowing it might not be enough. Our professional technicians can manage the weeds around it, achieving the ultimate neat look of it.
Aeration : This service is usually performed in spring or early autumn. It improves the air and water flow to the roots of your grass. This will give your lawn a healthier, fresher look.
Overseeding & Fertilizing : Whenever your grass is not thick or healthy enough for your liking, call us and we will fertilize it for you. This will improve the grass quality all over.
We suggest you book a regular maintenance of your lawn, in order to keep it good-looking and fresh. Our teams can be hired for a scheduled lawn service.
Our company offers the most appropriate service for your individual needs. We aim to provide all our customers in London with the best gardening solutions. We offer the highest quality as well as the most reasonable prices. Our wide range of services is provided by our professional experts. They are multi-skilled, highly motivated and completely dedicated to their work so we guarantee you amazing results. As our aim is to make your lifestyle easier, we are available every day, including on holidays. If you need any assistance, feel free to contact us!
We offer you
More free time to spend with your friends and family
Keeping your lawn healthy and neat all year around. This improves your living conditions, since healthy lawns purify the air and green calms the mind.
Availability every day, including weekends and holidays.
Professional care and advice for your garden.
Regular maintenance so you don't have to worry about it.
We value your precious time so our team of certified experts works every day, including on holidays. If you require any further information about our offers – feel free to contact us!
We know how busy your life is and we want to fit your schedule, so we work fast and efficiently. Our top quality gardening solutions are very affordable. For any further information – don't hesitate to call!
Frequently Asked Questions
What is the best time to cut my grass after winter?

In early spring grass starts growing at an increased rate after temperatures stay over 5 degrees for a longer period. Whenever your grass is above 6cm it is ready to be cut. Mowing it will increase the growth and health of your lawn.

I have a big bald patch in the middle of my garden, caused by garden furniture. How can you fix this?

The best way to fix a bald patch is aerate the soil and fertilize it. After that, overseeding is performed and soon, the bald patch disappears. Yes, it is that easy!

Do I have to provide a lawn mower?

Nope, our employees will come fully equipped with everything needed for your garden maintenance. You do not have to worry about that.

Do you bag the clippings?

We usually don't. It is actually healthier for your grass if we dont so the lawn can use them as mulch. However, for an additional charge, we could bag them for you.

What if it rains?

Bad weather is not uncommon in London. We will reschedule your appointment for another day, no problem.

What if I am not home?

You don't have to be home to get your lawn taken care of. Just make sure you provide access to your garden.
"What I liked about your gardeners is not only the fact that they really know what they are doing, but also that they went the extra mile to work with my budget. This is hilarious. I mean, just how many contractors ever do that? I'm astonished by your service and I'm definitely going to use your gardeners on a recurring basis because I really loved how they tended to my garden. The lawn used to be very tired-looking, weeds had found their way into it, the grass had overgrown. Your gardeners had a few great ideas about the overall appearance of the garden and did whatever they could to spruce it up, so now I can say it does add curb appeal to my home and I'm very delighted with your service. I would definitely recommend you. Wish you all the best." – James Patterson
"It was so easy, Gardens Mates makes it effortless. My lawn is looking so much healthier and greener. I love it!" – Jessica
" I have had trouble with other garden service providers before. They would come on random days, skip weeks and not always do a good job. I have no such issues with Gardeners Mates. They are always on time, never skip appointments and are super responsive both through email and on the phone. I am very pleased with their work." -Lesley Tin