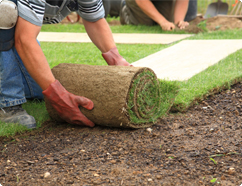 We offer professional and qualitatively done turf laying for domestic and commercial purposes. Our landscapers are supplied with the highest quality fresh turf, bark, topsoil and compost. They use modern machines to ensure the proper and in time completed turf laying services. Our turf laying services are available in London every day from Monday to Sunday at a very competitive price. Call us and order them to make your outdoor area nice and attractive.
Turf Laying from Gardeners Mates
In our turf laying services are included:
Delivery of lawn turf
Using a rotavator to turn over the ground for preparing the soil, making it loose
Preparation of the site for turf fitting
Turf fitting
The use of the most fresh turf and top quality bark, topsoil and compost
Our company provides fresh turf, ready to be transported to any place you need it laid. You can have your lawn turf delivered to any address. Our gardeners are supplied with professional turf cooling devices, stored in our depots. They keep the turf fresh and in the finest condition possible, before laying it.
Book your gardening service & SAVE 10%
Turf Laying – Team of 2
from £37/h

£33/h

Hedge Trimming – Team of 2
from £37/h

£33/h

Lawn Mowing – Team of 2
from £37/h

£33/h
Our landscapers use special machines for turning over the ground and make the soil loose enough, before laying turf on it. They make sure that the ground is prepared enough, so that the turfing is successful and with long lasting results.
Turf Laying Services London
Before fitting the turf, we will prepare the surface very well. Whether you have an exhausted old lawn, which needs replacing or a weed-grown garden, which is neglected and want to have transformed, we will create a good enough base for the new turf.
Using the highest quality topsoil, compost, bark and turf, you can have your garden and any ground turfed. Order our turf laying services, provided in London and you will have brilliant lawns and gardens. They are available seven days in the week on very competitive prices. You can expect professionally done work, making your outdoor area look impressively.